The basis of a caged bird's diet is usually a seed mix. This can be so for the cockatiel, but it needs to be supplemented with a variety of fruits and vegetables, if you want your cockatiel to be a healthy bird.
For the seed mix, choose one that has been prepared especially for cockatiels, as this should contain seeds suitable for your bird.
Vegetables that can be fed to your cockatiel include silverbeet, spinach, carrot (sliced finely or grated), corn on the cob, corn kernels, peas, beans, parsley, endive, broccoli and zucchini.
Most fruits can be fed to your bird, but it is a good idea to remove the seeds. Apple seeds, as well as some of the other seeds from fruits, contain cyanide, which can be deadly for your cockatiel.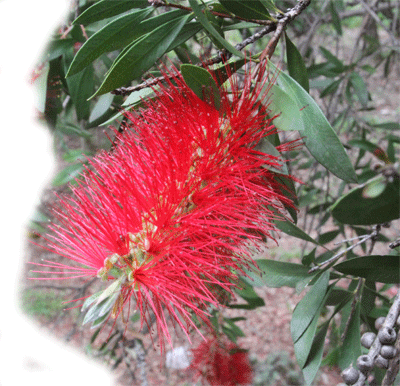 I like to give my birds pieces from native trees such as Eucalyptus, Callistemon, Grevillea and bottlebrush. They love to chew on the leaves and the bark and it is good entertainment for them.
AVOID - avocado, rhubarb, apple seeds (and other fruit seeds, to be on the safe side), sugary foods and salty foods.
Fruits and vegetables that have not been eaten within 24 hours should be removed from the cage. If the fruits and vegetables are left for long periods of time, they will spoil and bacteria, fungus and mould can develop, which can harm your cockatiel.
Access to cuttlefish bone and calcium/iodine blocks is also very beneficial to your cockatiel.
Fresh water is an essential part of your birds diet. The water should be changed daily.
Housing
Cockatiels need room to move and stretch and flap their wings. I would recommend a minimum cage size of 45cm x 45cm and 50cm tall. A wider cage would be preferable. The bars should be no further than 18mm apart, 12mm would be good. It is preferable to have the bars running horizontally rather than vertically as this give the cockatiel the opportunity to climb on the sides of the cage.
There should be a couple of perches set at different levels, but not too crowded to hinder movement and wing stretching. Perches of natural timber is better than dowel or plastic rods. Bits of tree branches used as perches vary in diameter, this will help maintain the health of your birds feet. When it comes to cleaning, it is easier and better just to replace the perches with more natural timber and the arrangement can be changed to make the cage a little more interesting for the cockatiel. Cockatiels also love to chew the bark on natural timber, so its best to choose a native timber such as a eucalypt for the perches. Be careful not to choose something that could be toxic to the cockatiel.
Environment
One of the nice things about owning a handraised cockatiel is that you are able to take it out of its cage when inside the house. This give you a great opportunity to interact with your pet. However, when your pet cockatiel is out of its cage and inside your home, there are certain dangers you must be aware of, if you are to keep your bird safe.
These dangers are:
| | |
| --- | --- |
| | Ceiling fans: Never have a ceiling fan running while your pet bird is out of its cage, even if you have its wings clipped. |
| | Other pets: Cats and dogs pose a great threat to your bird. |
| | Plants: Some indoor plants can be toxic to your bird. Cockatiels love to chew on plants, so make sure your plants are not going to harm your pet. |
| | Kitchen and bathroom: A sink or bathtub full of water or the toilet bowl, with the lid open, could result in a drowning, if your bird should accidentally land in it. Hot water, in the sink or saucepan or wherever, could cause serious burns to your bird. Hot surfaces on the stove will do the same. |
| | Small Children: A pet bird can easily be crushed if handled in the wrong manner, so small children need to be taught how to hold a bird. |
| | Lead poisoning: Some old paint contains lead and cockatiels love chewing and so could consume some of this paint and affect their health. The lead in lead light windows and light shades can also be a source of lead poisoning. |
| | Doors, windows and mirrors: An obvious danger for your pet cockatiel is that if a door or window is left open, your pet could fly out. Its wings may have been clipped, but it can learn to fly with clipped wings and the flight feathers do grow back. A closed window without a blind or curtain might look like an opening and could prove disastrous if your pet tries to fly through it. A mirror might look like an opening to another room and your cockatiel could try to fly through it. |
| | Electrical cords: Cockatiels love to chew on things and if it manages to chew through an electrical cord, it could spell disaster. |
| | Renovations: New paint, carpet and particle board will smell nice and new to us, but to the cockatiel the fumes could result in it becoming ill. Even if your cockatiel is in another room, the fumes will travel throughout the house. |
| | Chemical fumes: Pesticides, hairspray, deodorant, and many other aerosol products could contain chemicals which could be toxic to your bird. Scented candles and incense give off fumes that could cause your pet to become ill or die. Non stick cookware when overheated gives off fumes which are also dangerous to your birds health. (Makes you think - what do some of these things do for us?) |
| | Pine scented cleaners: Don't use these to clean the food and water dishes or the cage for your bird. I use two different disinfectants which have been specially made for veterinary purposes. They are Sani Chick and F10. Both are safe to use around your pet birds. Bleach can also be used, but make sure the items are thoroughly rinsed before being put back in contact with your bird. |
Last updated 09/07/2017